Director: Joe Lynch
Starring: Steven Yuen, Samara Weaving, Steven Brand, Caroline Chikezie
Running Time: 87mins
Often two movies come out at the same time, that have been developed separately and simultaneously without one having knowledge of the other, that work on similar or even the same themes. It is generally the case that whichever is released second is compared to or even sometimes seen as ripping off the first. This is the case here with "Mayhem" coming out hot on the heels of "The Belko Experiment". Although in this particular case it is a little unfair as while broadly similar this is set up differently to that film. As "The Belko Experiment" is more of a "Battle Royale" deal with office workers made to kill each other as part of a game. Where in this movie a virus makes them do it (which in some ways makes it more similar to 28 Days Later or the comic book "Crossed")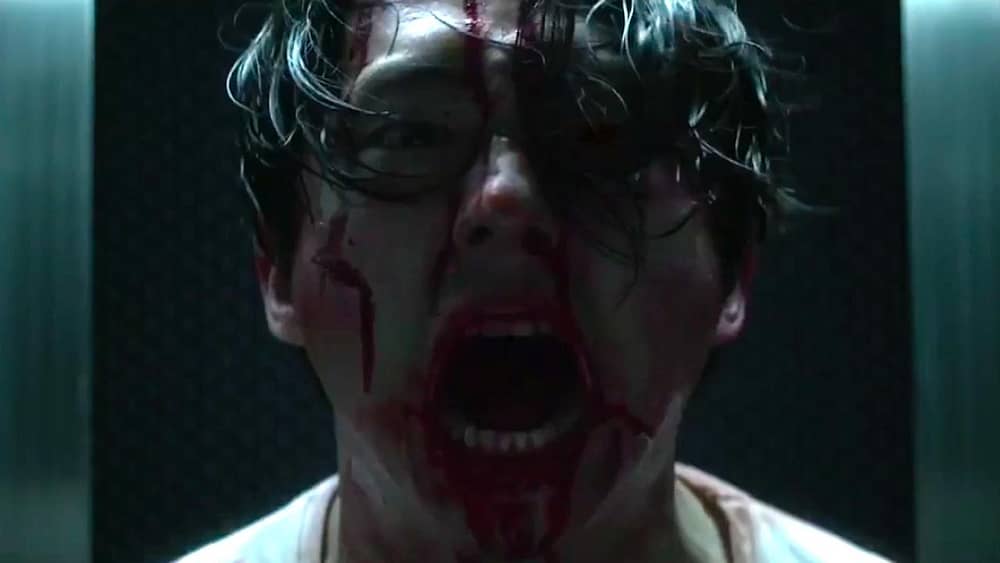 The virus is called ID7 which makes anyone exposed to it completely free of any inhibitions and makes them act out all their most violent and sexual impulses or as the film puts it makes the viruses victim "pure Id". The effects of the drug are illustrated in a violent opening narrated by our protagonist Derek Cho (Steven Yuen of "The Walking Dead") who explains he is the lawyer that found a loophole which means nobody can be held legally responsible for their actions while under the influence of the virus. The use of Rossini's "The Thieving Magpie" during this montage of violence also brings to mind "A Clockwork Orange" (a presumably deliberate nod by the director).
After that we are told about Cho's job at a high powered law firm and how he went from wide eyed and enthusiastic to being another soul crushed by the corporate world. There are several stabs at corporate satire throughout the film which are fitfully funny and effective but really amount to little more than giving the corporate world the finger.
It seems unlikely though you will come to watch a movie called "Mayhem" for its nuance or biting satire but more for the violence and gore which it delivers in spade's once the virus inevitably spreads through Derek's office. This could not happen at a more convenient time for him as he has just been fired after being set up for something he did not do. He knows he now has window to carve his way to the top of the building to prove his firing was unjust to the board on the top floor and he is not liable for any the damage he causes on his way there until the virus wears off. He is helped on his mission by Melanie (Samara Weaving) who is a defendant he turned away but whom reluctantly teams up with him as she also want to get to his bosses.
From this point on the film is a series of increasingly over-the-top violent set-pieces. Which sounds dismissive but is not entirely as many of these gory standoffs are very entertaining indeed and in something of a throwback we even get a weapon tooling-up montage at one stage which is fun and generally fun is the operative word here. There is lots of fun to be had with this movie from the gore to the one-liners to the fight choreography to the chemistry between Yuen and Weaving (who similarly impressed in "The Babysitter"). Also Yuen acquits himself well in what is, his first, leading man role to date.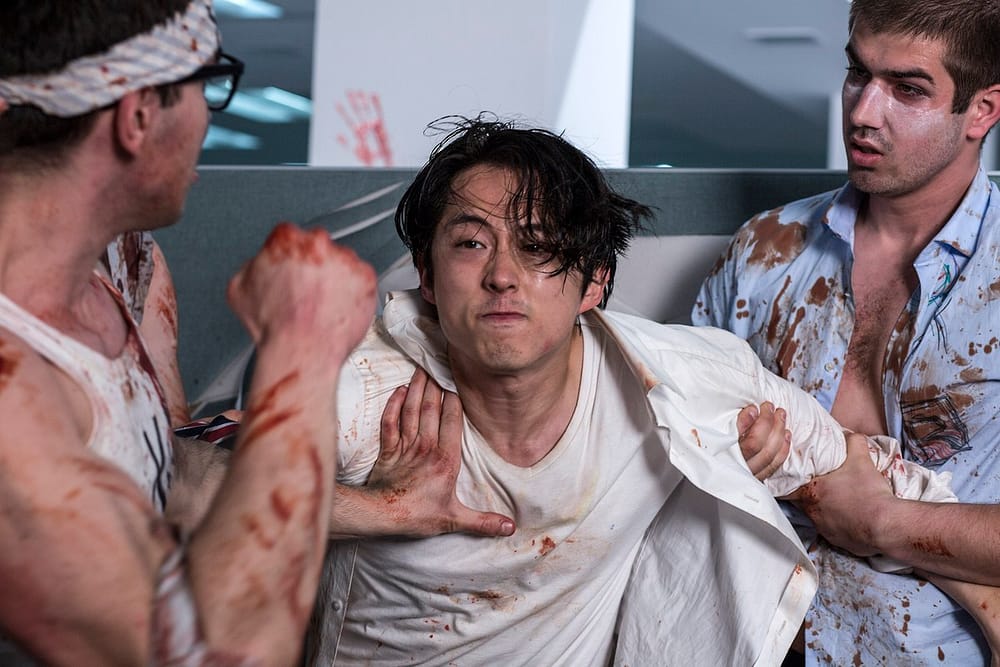 That said it also all feels a bit weightless as we know there is not going to be any consequences to this violence right from the very off and this means there is no sense of jeopardy  nor emotion and the violence washes over you much like in a video game. In fact as our duo have to achieve certain things to continually progress their way up the building it is very much structured like a video game as well as bring to mind the film "The Raid". All that said the movie always remains nothing less than watchable.
Overall: This is neither the scariest nor the smartest of horror movies you are likely to see but it does have likable performance, some witty dialogue, is well paced and has plenty of OTT gore which makes it a decent Saturday night, switch-your-brain-off, type of flick.
6/10