Director: Paco Plaza
Starring: Sandra Escacena, Bruna González, Claudia Placer, Ivan Chavero
Running Time: 105mins
When a movie comes along that is dubbed as the "scariest movie ever" it is often met with understandable eye rolls from horror fans as this is something that seems to happen once every couple of years and often these are a) Far from the scariest movie ever and b) Frequently not even that good. This why when I came to  watch "Veronica"  it was with such trepidation as it has been hyped up in this way ever since it hit the Toronto Film Festival last September (although it came out in its native Spain the month before). I did have some hope though, given the directorial pedigree of Paco Plaza who has already delivered one of the great horror movies of the 21st Century so far in the form of [REC].
The film is loosely based on the real story of Estefanía Gutiérrez Lázaro, a teenager, who died mysteriously mere months after playing with Ouija board back in the early 90's. The thing that makes this case even more exceptional is the policeman on the case alleged to have witnessed paranormal events during his investigations and it is the only time in Spanish history such phenomena has been written into an official police report.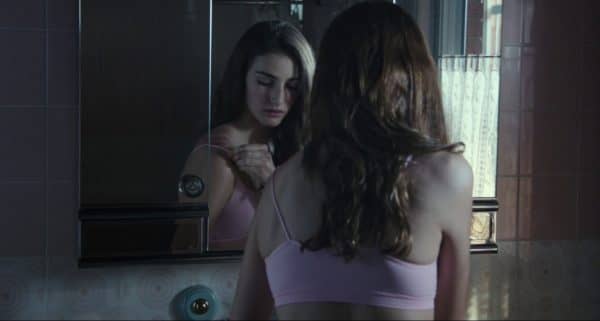 As mentioned the film only takes inspiration from this story and does not draw directly from it. Instead the film tells the story of Veronica (Sandra Escacena) who is one of four siblings, the other three of which she mainly looks after due to her mother's long working hours. The trouble starts for her when she, along two friends, conducts a séance with a Ouija board, in the basement of their school's basement. The impetus behind this being the hope she can make contact with her deceased father. The scene in which this unfold is incredibly effective as the girls choose to do this while the rest of the school are out looking at an eclipse and the cutting between the séance and the eclipse gives it that extra layer of foreboding.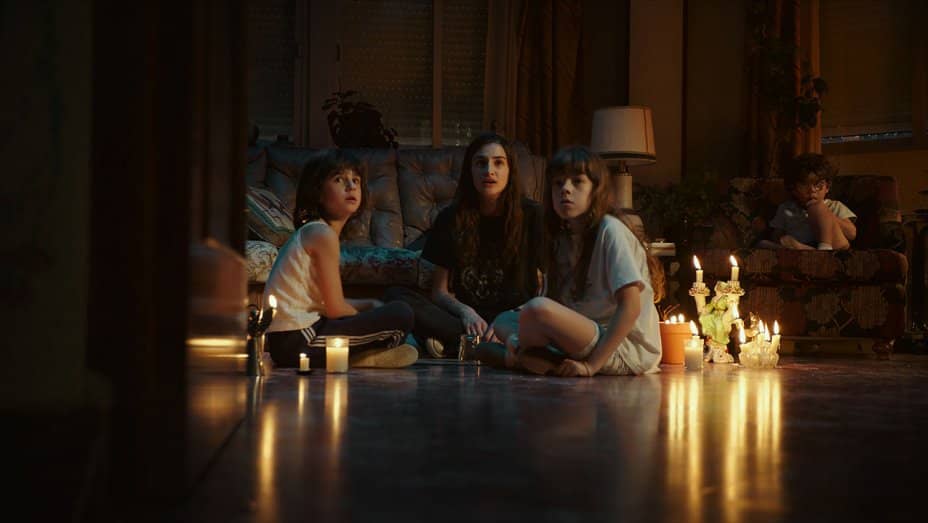 Predictably the girls do not make contact with Veronica's dad but do unleash evil forces that only our protagonist can see and soon seem to haunting her house as well as her dreams. None of which sound like anything horror fans have not seen many times before and it isn't but some of the best horrors, or films in general, are the ones that can make old hat material seem fresh or give it their own particular spin and this is exactly what this movie does.
That said not everything totally works; for example there is a blinding smoking nun character who gives our protagonist cryptic doomy warnings throughout the movie. Now while she is an entertaining character it also, maybe, just that bit too over-ripe and OTT for a movie that seems to be generally aiming for an unsettling, grounded tone.
Aside from this OTT element and the odd genre clichés there is little to complain about this piece of cinema and what really makes the movie sing is characterisation. Sandra Escacena is excellent in the title role and the character herself seems fully formed and you quickly immerse yourself into her world. Also the relationship between her and her two sisters Lucia (Bruna González) and Irene (Claudia Placer) and brother Antonito (Ivan Chavero) is beautifully drawn. The believability of their sibling bond also makes it all the more heart-breaking and tense when the ghosts/ evil spirits look to be coming after not just Veronica but her brother and sisters too. To say anymore would be to spoil the film and we would not want that now so I shall say no more on the story. I will however say other things that really bring the movie to life is the interesting use of traditional creepy horror music and 80's synth horror music, the excellent cinematography and strong directing.
In the end is this the "scariest movie ever?" No, no it is not but is this a movie that is an early contender for horror movie of the year? Yes it most certainly is.
Overall: "Veronica" may lack in originality of concept but it more than makes up for it in the effective execution of that concept.
8/10