Directed by: Coralie Fargeat
Starring:  Matilda Lutz, Kevin Janssens, Vincent Colombe, Guillaume Bouchède
Run Time: 108mins
Despite only being afforded a very limited release at the cinema Revenge is already one of the most talked about horror movies of 2018. This is not only because it is a rape-revenge movie, that most sordid and exploitative of all horror sub-genre, directed by a woman but also because it takes a more feminist twist on the sub-genre. This is a fact that is being celebrated, at least in some quarters, as quite ground-breaking indeed, although whether this is so is up for debate as there is certainly a bunch of stuff here borrowed from other movies with the director herself citing "Mad Max", "Rambo" and "Kill Bill" as key influences. This may seem as surprising for a horror movie but it make sense once you have seen the film. In terms of other films that cover similar terrain you can see some influence from the likes of "Irreversible" and "Baise Moi", however this movie is nowhere near as grim as either of those works. That being said, just because a film generously lifts from others does not mean it is of poor quality or that is does not have its own identity and this one more than proves it as it is excellent and stands on its own two feet.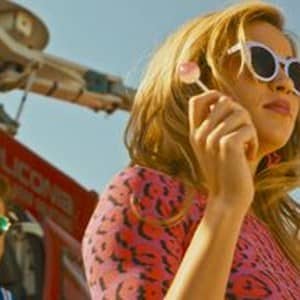 The movie tells the story of Jen (Matilda Lutz), a young American girl who has been whisked away for a dirty weekend in the desert by her wealthy married lover Richard (Kevin Janssens). Their party is unceremoniously crashed when Richard's two friends and business associates Stanley (Vincent Colombe) and Dmitiri (Guillaume Bouchède) arrive early for the group's annual hunting trip. From the very moment Stanley and Dmitiri arrive there is a gut-wrenching tension as the viewer is immediately aware that only bad things await our heroine and director Fargeat wrings this tension for everything it is worth. Fargeat also makes the interesting decision to not make Jen a wallflower but a young girl who is playing with and flaunting her sexuality. This element is well employed when the rape does come, as the director uses it to make a (not subtle but entirely worthwhile) point about victim blaming culture. This is further illustrated when Jen's rapist tries to sickeningly self-justify how she "wants it".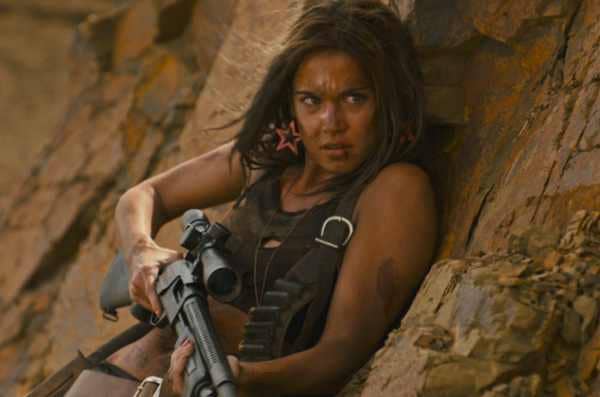 This is only the start of Jen's nightmare though as Richard shows his true colours when he tries to buy her silence. She then appears to be killed when trying to escape from the three men. I say appears as, of course, this is a rape-revenge movie and Jen must come back for her revenge. This is where the movie changes gears a little and it becomes more of an action-horror as our heroine tools up to hunt down her attackers while riding a motorbike through the vast desert landscape looking pretty  cool indeed. It is at this point where the aforementioned influences of the likes of "Mad Max" and "Kill Bill" start to shine through. Also in the way Jen is miraculously reborn it seems somewhat akin to a superhero origin tale. This is not quite accurate though as even while she is taking her revenge she never feels like an invincible heroine scything through her foes, there is always a vulnerability and girlishness to the character. While she has few lines, Lutz, manages to convincingly convey both the gritty survivor and the vulnerable girl. The other actors generally play their part well too, particularly Colombe who convinces a slimy cowardly creep Stanley who is also probably the best written and most convincing of the three attackers.
Away from the central plot it must be mentioned that this film is exceptional on a technical level. It has been shot with a ton of visual flair and the editing is super-slick. There is bunch of scenes that are excellent in these terms but it is a hallucination sequence in the middle of the film that particularly stands out. Another thing the film has going for it is all the carnage in the film is played out to a pulsating Carpenter-esque soundtrack.
Overall: In an outstanding feature debut Coralie Fargeat has delivered probably the most fun rape-revenge movie you will ever see while subverting genre tropes along the way.
8/10