Directed by: Leigh Whannell
Starring: Logan Marshall-Green, Melanie Vallejo, Harrison Gilbertson, Benedict Hardie, Betty Gabriel
Run time: 100mins
"Upgrade" is the latest feature from Leigh Whannell. Surprisingly despite being a prolific horror screenwriter and co-creating two of the biggest horror franchises of the last 15 years in "Saw" and "Insidious", this is only his second directorial feature.
Unlike a lot of his output, this film is not straight up horror instead it mashes up sci-fi, action, horror and even a bit of comedy too. You might think sticking all these elements would make the movie messy but Whannell manages to get away with it for the most part. That said if you have seen some of Whannell's other work you will not be surprised by the level of nastiness on display.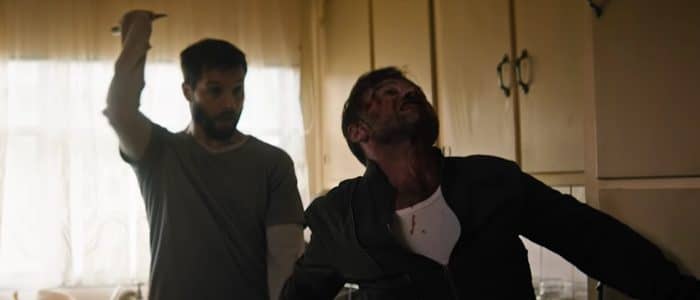 The film starts with a neat touch with the production credits and the title being readout by a synthetic female voiceover, represented visually by sound waves. The story takes place in a near-future where technology controls nearly all aspects of life. It is a vision of the future that is both futuristic and retro as it calls to mind the look of various sci-fi actioners from the late 80's/early 90's, the film being particularly heavily indebted to Robocop.
The focus of the plot is technophobe Grey Trace (Marshall-Green), who spends his days repairing vintage cars for a dwindling clientele while his wife Asha (Vallejo) works for a tech company. After an idyllic opening between husband and wife, you know that tragedy is just around the corner. Right on cue, she is murdered and he is left paralyzed by a gang after the two survive a car crash. His only hope to walk again is an advanced experimental computer chip called STEM. The chip is provided by sinister tech billionaire Eron Keen (Gilbertson) who just so happen to be one of Trace's clientele.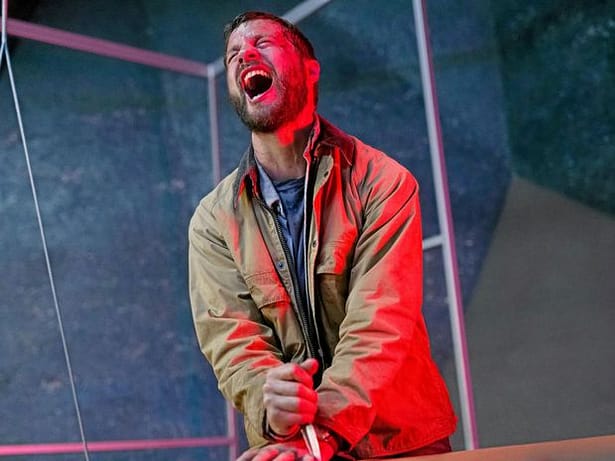 The chip, of course, not only allows Trace to walk but gives him superhuman reflexes and fighting skills. Meaning he can take revenge on his wife's killers. As premises go it is one that has been seen a thousand times before. However, this is a movie that is more about execution than anything else and it does execute its action beats very well. There are several balletic and brutal fight sequences throughout that are as thrilling as they are entertaining. In fact, all the action choreography is excellent including a very well staged car chase near the end. The cinematography is also a real highlight with there being several visually sumptuous shots throughout the movie.
Character-wise it is hard to invest in anyone other than Trace himself. Trace might be your typical action hero in some regards but Marshall-Green manages to give him a depth and humour too. The only real issue with the character being the way he flip-flops from being terrified of what is happening to his body to a wise-cracking hero and back a little schizophrenically. Plot-wise it is nothing to write home about either but the film does deliver some nice twists near the very end.
Overall: An expertly paced retro cyber thriller that may not be particularly original but is an entertaining thrill-ride and provides plenty of brutal set-pieces that genre fans should lap up.
7/10